I'm in a rage right now. The absolute hatred and apathy for blacks is deafening. I'm not a racist. I never even saw race until I was an adult and started being clearly treated differently than others and clearly because of my race. It's hard when you see racism because as a black person, you are not allowed to call it out. If you call out racism when you see it, YOU become racist. YOU are just pulling out the race card. YOU are ignorant. YOU just can not seem to get over slavery and why can't YOU? So many people of color just shut their mouths and discuss our issues with other people of color who can also see the wrongs that are so blatantly happening to us. We only speak up when the actions become so deadly that we start to fear for our lives, our kids lives, our family's lives AND know there's nothing we can say or do to stop those actions from happening. Because with the Black Lives Matter movement, you would often hear from blacks that we just need to not question the police, be extra polite and for the love of god, no matter what it is they ask you to do... just do it. Then it'll save your life. Don't do anything wrong and take whatever the police throw your way with a smile on your face as long as it'll save your life. However, we had to start speaking up more because even that wasn't saving our lives. Black men would do nothing wrong and still have police come up to them. Black men would say yes sir and smile and still get fucking shot dead. Who cares though?
That's a real question. Who really cares? I look around online, looking for allies. White, black, asian, hispanics, I don't care the color, just allies. Instead, what I see is people arguing over the term "black lives matter". Instead, I see people not trying to understand WHY black lives matter but trying to argue why they DON'T. It hurts my heart. We should be standing side by side on this. You want to argue that All Lives Matter, but you won't even stand beside me in this war against injustice because I won't stop saying that Black Lives Matter. It is not saying that black lives matter more than anyone else's. It is to say that black people do not feel like we matter right now, but we do!
Our lives matter just as much as white lives!
Black lives matter as much as white lives so you can not just kill us and have it mean nothing!
Because you don't just kill white people without some kind of justice being had.
Because you can have a white family make an innocent mistake that gets their child eaten by an alligator and the whole country comes together to let the parents know that they're not alone, they're not being blamed.
Because you can have a black family have their child found in a gorilla cage and the whole country come together to let the GORILLA know that it's not alone and it's not being blamed. And the father of that boy who wasn't even there has his criminal record shown on every media outlet and everyone is calling for the mother to be killed or put in jail.
This is every day injustices black people face that we are not allowed to speak on. We are made to feel like it's better to sympathize with the white people than empathize with our own.
We are made to feel like it's better to bleach our skin so we are seen as white than be the color we were born as.
Then everyone shakes their head at us. What a shame. Why do they feel like they need to do that? But no one looks in the mirror. No one really cares. Every head shake elevates you higher than us in your eyes.
Get over slavery. There's no such thing as racism anymore. Why can't you just admit that all lives matter?
Why can't YOU just admit that black lives do NOT matter? Why can't you admit that an animal's life matters more than black lives? Why can't you admit that semantics matter more than black lives? Why can't you admit that you try so damn hard to not even see things from our point of view? Why can't you admit that you are ignorant on the matters of racism and therefore can't always understand what black people feel and see and experience? Why is it so impossible for you to just hold our black hands and stand with us instead of fighting with us on what we experience every day of our lives?
What about black on black crime?
What about it? What does that have to do with police killing innocent people? What does that have to do with the injustice of cops being able to peacefully subdue a white person; yet even when a black person has done nothing to warrant a visit from the police, even when a black person is listening to the police, even when a black person is subdued, we're still getting shot dead? If i'm saying this is an injustice, I'd rather you just respond "What about lollipops?" It has just as much relevance but I'd have more respect for you.
Why can't you explain/give a good explanation as to why the need to say "Black Lives Matter"?
We do. You refuse to listen.
It's frustrating to explain what this means, what we're looking for, what we're saying and then have someone continue to argue. When we start spouting knowledge and instead of taking in this knowledge, you continue to argue, then it's clear you're not trying to understand. You're trying to spread hate. When you're telling me that my experiences are nonexistent, or are the same as yours or I'm making a big deal out of nothing, you're spreading ignorance.
When you look at us and wonder why we're so angry all the time, please think of this. We are angry because we are constantly stepped on and we try to not rock the boat and just keep our mouth shut but when we start screaming for help, you just look down at us like we're crazy. You look directly at the shoe coming down on us and say it's our fault.
I'm fucking angry because when you are arguing with me over the use of the slogan "Black Lives Matter" instead of arguing against police killing innocent people, you are proving that all lives do NOT matter.
Thank you to all who stand with us and fight with us instead of against us.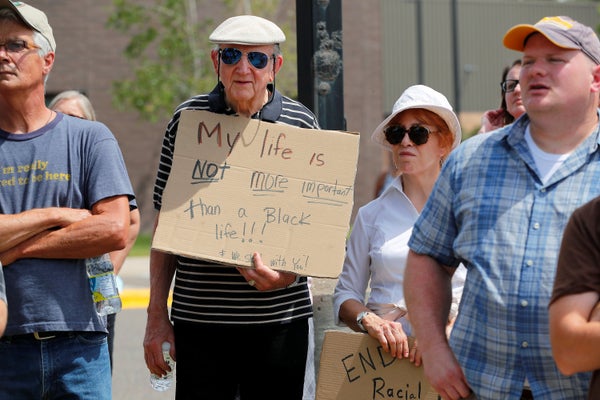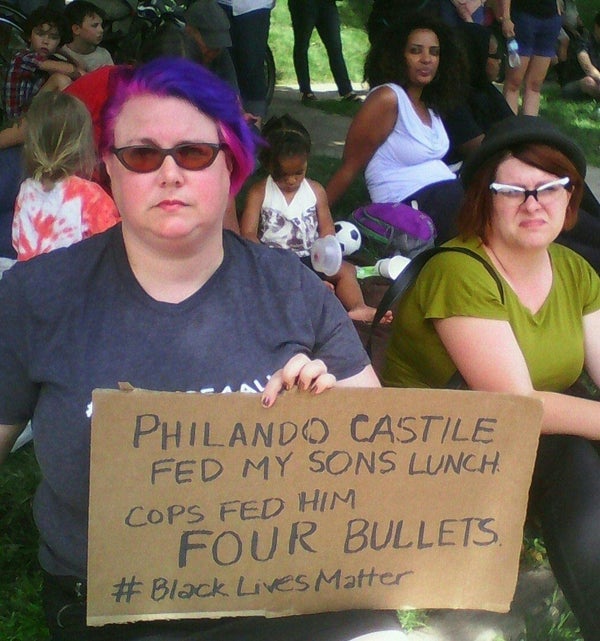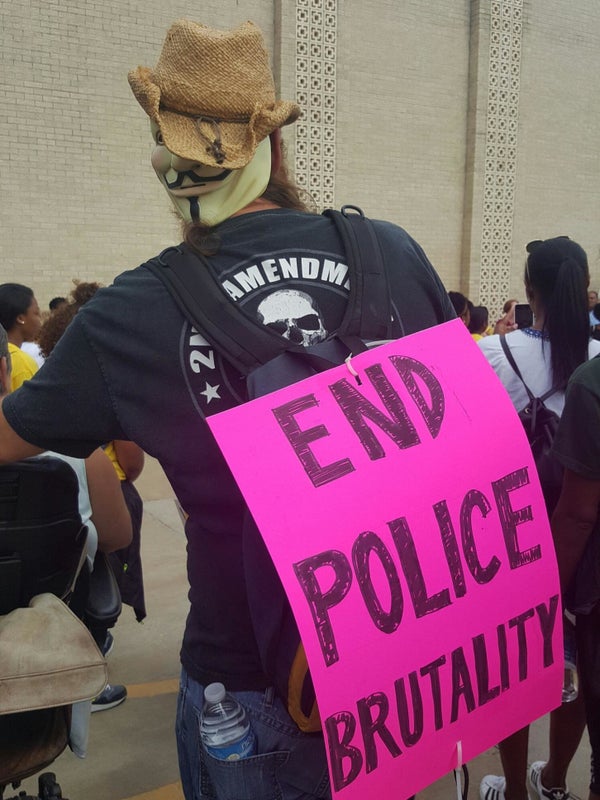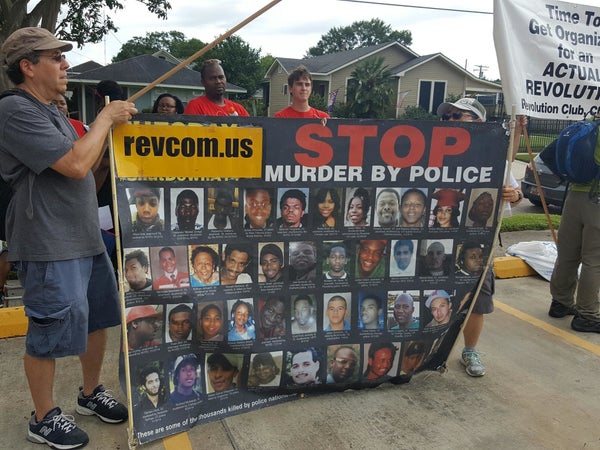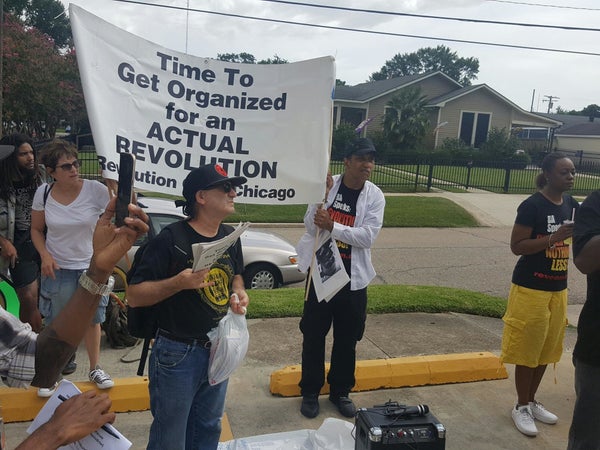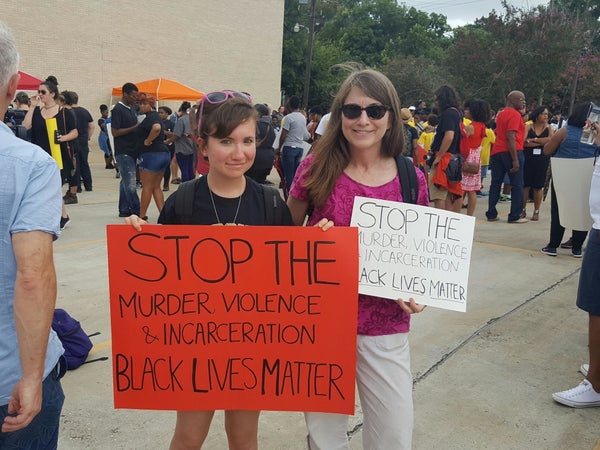 You make my heart swell. Thank you for your help and support. We are one and thank you for seeing that.
All pictures from Huffington Post